| | | |
| --- | --- | --- |
| | | |
| | | |
| | | |
9.1.1. call volumes are continuing to increase an average of 5.2% per year. Overlapping emergencies also are straining our resources. In 2019, 55% of our emergency responses were back-to-back calls. Often, we have to rely on mutual aid from neighboring agencies, which can take longer to reach you in an emergency. Read More...
Marion County Fire District#1 Professional Fire Fighters "Tough Enough To Wear Pink"
Salem Oregon - Marion County Fire District#1 Professional Fire Fighters L2557 will be wearing the color pink the week of October 15th – 20th for Breast Cancer Awareness.
The American Cancer Society Breast Cancer Facts & Figures published a report on October 3, 2017 stating "breast cancer is the most common cancer among women in the United States, after skin cancer. By the end of 2017, an estimated 252,710 women will be diagnosed with breast cancer and an estimated 40,610 women will die from it. Breast cancer risk generally increases with age. About 8 out of every 10 new breast cancer cases and among 9 of every 10 breast cancer deaths are in women 50 years old and older."
"October is Breast Cancer Awareness Month. By wearing our pink shirts, we want to bring awareness to the communities we serve for all who have experienced cancer, we also want to show our support to the survivors and families as well as remember the victims who have lost their battle." said Firefighter/Paramedic Jerrod Schuch.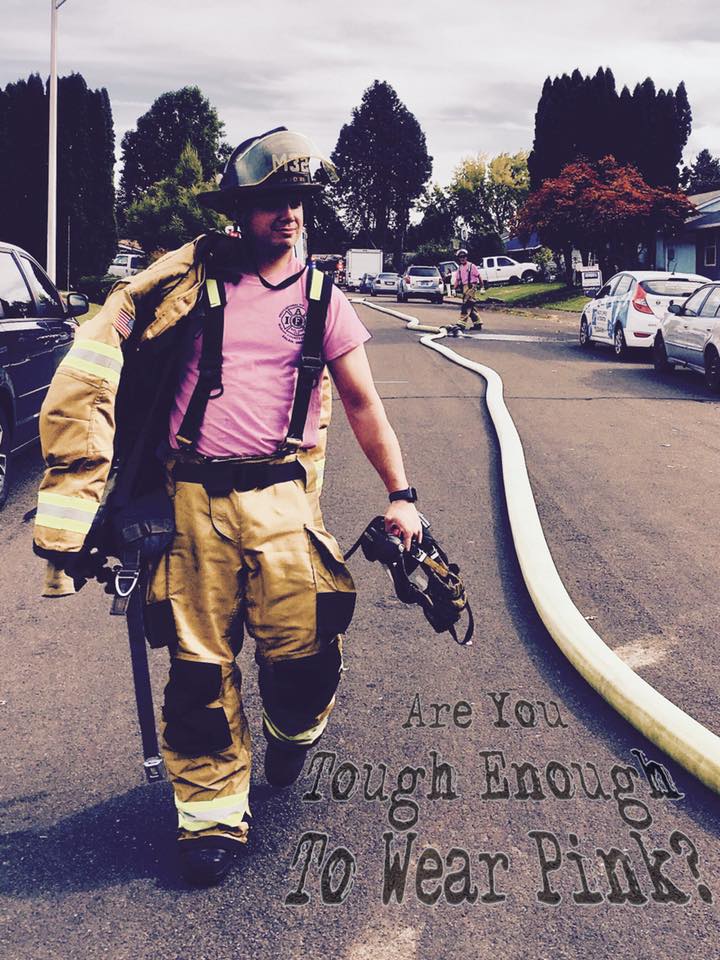 For Breast Cancer information please visit:
American Cancer Society www.cancer.org
For Marion County Fire District#1 Information please visit:
For MCFD#1 Professional Fire Fighters L2557 information please visit:
Firefighter Paramedic Ashley Yukich Awarded the "Michael D. McNeill Leadership Award" The "MDA Boot Camp" this year was held on April 13th at Chinook Winds Casino Resort in Lincoln City, OR. Read More...
(Salem OR) - For over 18 years, Marion County Fire District #1 Professional Firefighters IAFF Local 2557 has been raising money for the Muscular Dystrophy Association (MDA) to fight neuromuscular disease with 'Fill the Boot' fundraisers. Read More...
MDA Summer Camp Celebrates 60 Years of Service- July 15, 2015 MDA Summer Camp at Macleay Christian Retreat Center Oregon, kids with neuromuscular disease discover a world created specifically for them, and meet many other kids sharing the same needs and experiences. MDA campers dream about summer camp all year and often say it's better than Christmas; some even say it's changed their lives. Read More...
Firefighters Scott Wildfang and Cory Kottek will be participating in the 24th annual Scott Firefighter Stair Climb.  The Scott Firefighter Stair Climb is a race up the Columbia Center in downtown Seattle, 69 flights of stairs in full fire gear and SCBA. While Scott and Cory welcome the challenge, they are doing this to fight blood cancers. Read More...
4 YEAR OLD GIRL SAVED BY MCFD#1 FIREFIGHTERS, REUNITE