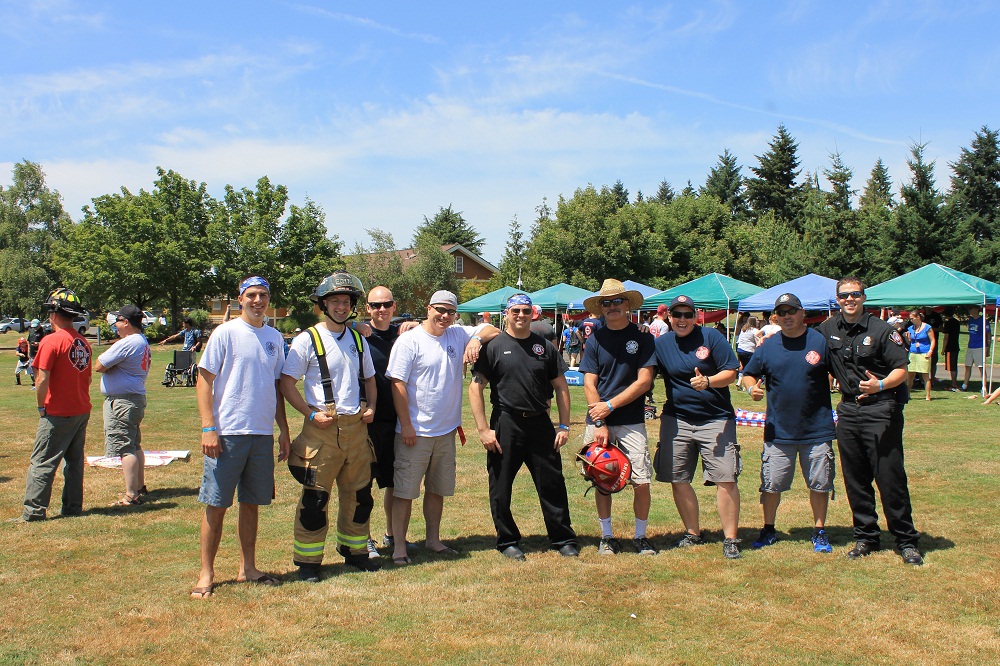 July 15, 2015 MDA Summer Camp at Macleay Christian Retreat Center Oregon, kids with neuromuscular disease discover a world created specifically for them, and meet many other kids sharing the same needs and experiences. MDA campers dream about summer camp all year and often say it's better than Christmas; some even say it's changed their lives. Almost all campers agree that it's "the best week of the year." July 15 was designated 'Firefighters Day'. Firefighter Day began with a fire truck parade, followed by water games with water balloons and fire hose. During lunch, firefighters had the pleasure to visit with campers and give fire truck tours; Firefighter Day concluded with firefighters competing in a belly-flop contest.
"MDA Summer Camp and 'Fill the Boot' are great events that increase our community's health and well-being; it allows Marion County Fire District#1 (MCFD#1) Firefighters to connect with the kids, families, and communities we serve. MCFD#1 Professional Firefighters IAFF Local 2557 took part in hands-on activities with the campers alongside other local firefighters from Salem Fire Department, Cowlitz County Fire District, Woodburn Fire District, Newport Fire and Rescue and Hoodland Fire District." said Firefighter / Paramedic Jerrod Schuch of MCFD#1.
MDA Summer Camp programs across the nation are possible because of the thousands of volunteers who devote themselves to the campers during camp week. Here in Oregon, local firefighters have made it an annual tradition to show their support by volunteering during Firefighters Day at the Annual MDA Summer Camp.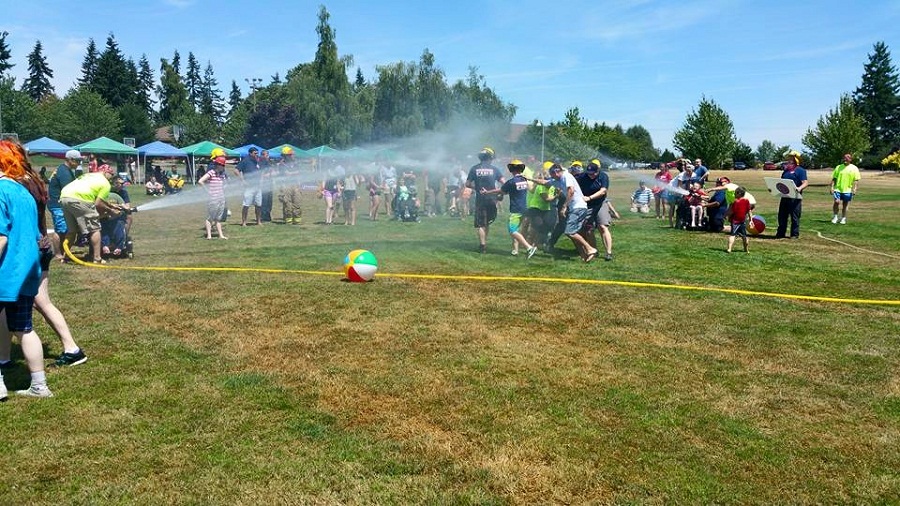 MDA is the world's leading nonprofit health organization sponsoring research seeking the causes of and effective treatments for neuromuscular diseases. The International Association of Fire Fighters (IAFF) is the largest national sponsor of the Muscular Dystrophy Association (MDA). More than 280,000 members of the IAFF in the United States and Canada are pledged to saving lives, both as firefighters and paramedics and as the strongest campaigners for the worldwide research efforts of MDA to eradicate 40 neuromuscular diseases. The contributions of the firefighters also go towards MDA's summer camps for children, professional and public health education, and other programs.
Thousands of youngsters attend MDA summer camp each year at no cost to their families. For more information about supporting MDA camp in your area, please contact your local MDA office at http://www.mda.org/locate
MDA Greater Oregon District http://www.mda.org/
Marion County Professional Firefighters www.local2557.com & Facebook
For additional information on this release, please contact:
Ashley Yukich
Paramedic
Marion County Fire District#1
ashleyy@mcfd1.com